Is FT8 growing at the cost of SSB Phone and CW? This is a million-dollar question. The debate on whether FT8 popularity is growing at the cost of SSB Phone and CW modes is raging across various social media platforms as well as other forums. Amateur radio operators with diverse individual preferences often have quite different and conflicting views on the matter. Some people tend to predict a doomsday scenario for traditional modulation modes while others justify it as a natural evolutionary process. On social media forums dedicated to ham radio, we constantly read about FT8 contacts being made in hundreds while very little is mentioned about the regular SSB radiotelephony, CW, or other traditional modes… It leaves an impression that by-and-large, the ham radio community might have embraced FT8 and consequently moved away from SSB phone and CW… At least, that's the impression we get from what we read these days. Is the above assumption true? … Perhaps NOT! … Perhaps the majority of FT8 QSOs are done by radio amateurs who are relatively newer licensees, belong to the...
Click Here to Read Full Article […]
S-meter Noise Floor in HF Radio Receivers In this article, I will focus on the interpretation (or perhaps misinterpretation) of the S-Meter Noise Floor levels as they prevail on HF radio receivers of typical transceivers used by amateur radio operators. Over the past year, I have covered various aspects of the difficulties that are often faced while negotiating propagation conditions on the HF radio bands. This is especially true during the current bottom phase of the Solar Cycle as we make the transition from cycle #24 to #25. This phenomenon is expected to persist for quite a while more, and therefore our discussions will continue to be quite relevant for a long time. Even later, during the healthy part of the upcoming solar cycle, the measures that we take now will continue to let our optimized radio stations perform far better than the non-optimized stations of many of our peers. Through a set of several articles, I have tried to place on the table various pitfalls of working HF DX under these conditions as well as offered various solutions to...
Click Here to Read Full Article […]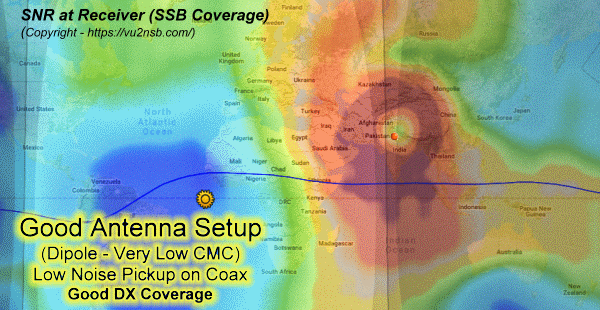 Effects of Local Ambient QRM on HF Radio Local ambient QRM (Noise) from various electrical appliances and other sources in the neighborhood often adversely affect HF radio communication. The negative effects of local QRM on an HF amateur radio station's overall capabilities are usually far more pronounced than what most operators realize. The ability to address these noise issues may either make or break the radio station's DX coverage efficacy. In the modern day-n-age, radio amateurs who live especially in urban and suburban areas are plagued with these adverse effects with several orders of magnitude greater nuisance value than the old-timers who operated several decades ago. Although these problems could be mitigated to a large extent by carefully choosing and setting up the antenna system, the unfortunate fact is that many radio amateurs do not even realize how or why these factors affect the radio station performance. The usual trend is to set up the antenna, use a low-loss coaxial cable which has become a fad these days, adjust the SWR to as low as possible either directly or using...
Click Here to Read Full Article […]