Archive for December 2019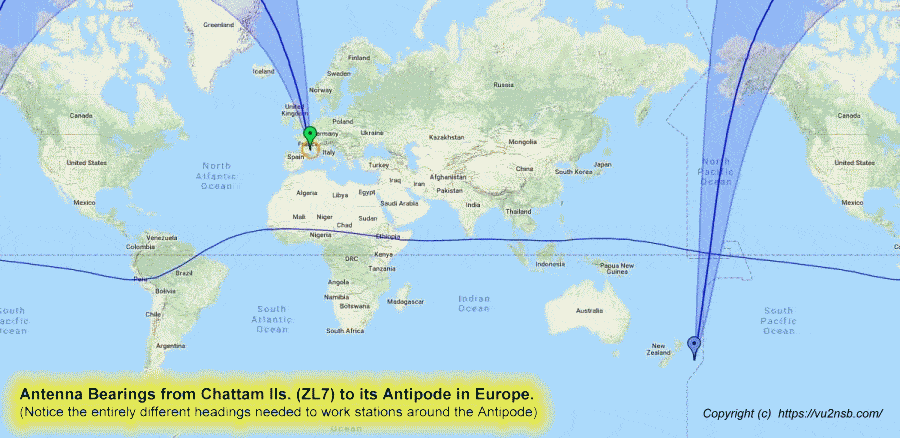 Working HF DX stations located near Antipodes Working HF DX at the longest possible physical distance on earth is often referred to as working stations near Antipodes. These situations present several unique challenges that may never be observed while working regular DX at shorter distances that are not as far as the Antipode. These challenges manifest themselves while using directional beam antennas and may not be observed or appreciated by those of us who have omnidirectional antennas. The challenges of working stations at or near the antipodes are not only experienced by the station holding the frequency and calling CQ but also by those who are trying to work him. We cover the concept of Antipodes in an article under the section Geodesic for Terrestrial HF Radio. However, to recap for those who might be new to the term, an Antipode is a location that is at the opposite side of the globe from where a station might be located. Hence, every operator has a unique antipode based on his location. For the sake of simplicity, if we assume the...
Click Here to Read Full Article […]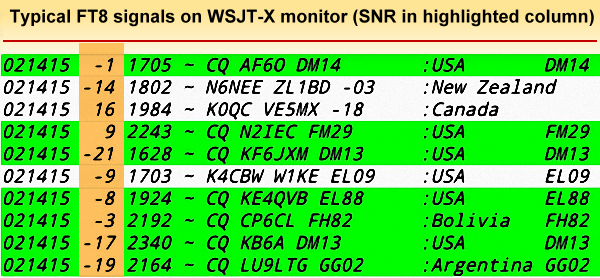 Digital modes like FT8 work below Noise? – A myth It is a common myth that narrowband digital modes like FT8, JT65, etc establish communication with signals that are below the noise floor. This myth has by and large been perpetuated among the amateur radio community where many operators consider it to be a magical property of these digital modes. These narrowband digital mode signals may not be audible on a regular radio receiver or may not be visible on the band-scope spectrum or waterfall displays of our transceivers but there is nothing magical about it. They certainly do not work with signals being below the noise floor. Barring a few modulation modes like the Spread Spectrum, including both direct Sequence Spread Spectrum (DSSS) and the Frequency Hopping Spread Spectrum (FHSS), typically most other commonly used digital modes need signals to be above the noise floor with a positive magnitude of Signal-to-Noise Ratio (SNR). Spread Spectrum due to its nature, has a very low signal density that typically lies below the noise floor. Hence, it is difficult to detect and...
Click Here to Read Full Article […]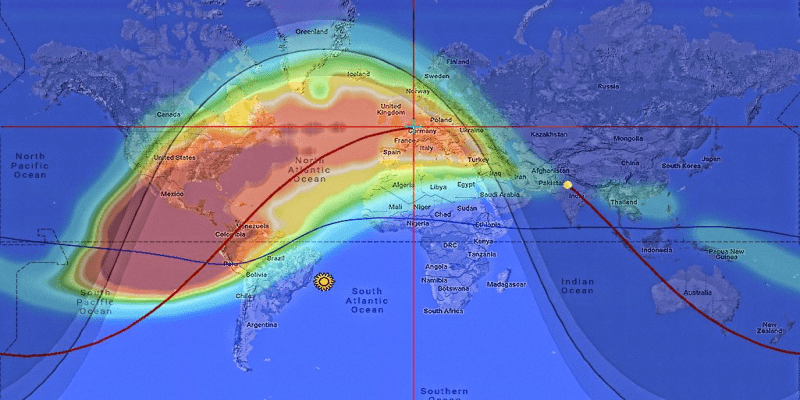 HF Long Path (LP) – Getting acquainted HF radio DXing may often be leveraged by the use of HF Long Path (LP) from time to time. By and large, on a routine basis, we all tend to explore HF radio propagation openings that prevail along the better known Short-Path (SP). The earth is nearly a spherical object and the path taken by the radio signals to travel to the DX location is always via the shortest straight path along the spherical surface of the globe. However, this straight path if extended beyond the DX location eventually circles the globe and reaches back to the originating TX station's location. This is the full Great Circle path. The Great Circle round-the-world path is always unique between any two radio stations on earth. In one direction along the circular path (Great Circle), the distance is shorter than the distance along the opposite direction. The direction along the shorter of the two distances is called the Short Path heading, while that in the opposite direction is the Long Path heading. There is only one...
Click Here to Read Full Article […]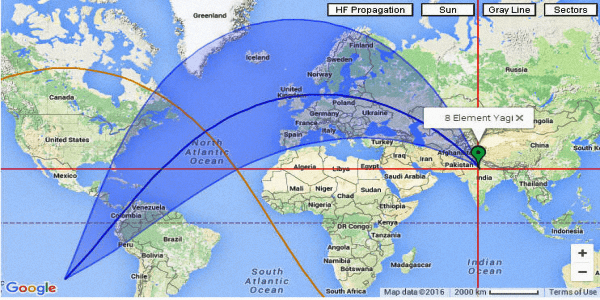 Do we need to set eaxct antenna bearing for HF DX? While working distant stations on HF bands do we need to be fussy about the exact beam headings and antenna bearing for HF DX? The short answer is NO… Yet, with the availability of various software utilities available to us both as standalone applications or online services, we often tend to get carried away. Several amateur radio operators, unfortunately, believe that unless their directional antennas like the Yagi are pointing precisely at the DX location they would not receive optimum signals. This is far from the truth. Let us quickly examine why. Of course, what we are discussing here is notwithstanding the fact that for VHF/UHF terrestrial radio contacts across several tens of kilometers one would need to beam quite accurately. Not only because the beam flare-out is narrow at short distances but also because much higher antenna gains on VHF and beyond produce far narrower beams… However, right now, we concern ourselves only with HF antennas for DX contacts. People at times ask me, What is your Grid-square?...
Click Here to Read Full Article […]