Understanding Antennas – What makes them good or Bad? Are some antennas good while some others are bad? Many people seem to think so, but this notion is not entirely correct. Any such binary black or white classification is not the way to assess antennas. The fact of the matter is that all antennas that have been designed to radiate RF energy efficiently are usually good in their own rights. Yet I concede that the operator's experience with a specific type of antenna may indeed be either good or bad. However, this does not necessarily mean that the fault lies with the antenna. More often than not it is the operator's judgment in selecting the antenna or the way it is deployed that makes all the difference. Unless the antenna in question is technically a poor design that does not allow effective radiation to occur or the structural material used for fabricating the antenna leads to high loss resistance in comparison to its radiation resistance, there is no reason why the antenna will not be able to do the job...
Click Here to Read Full Article […]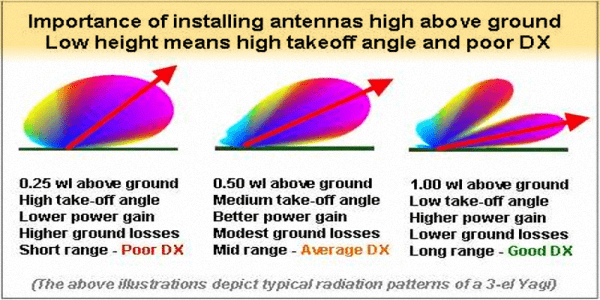 Does antenna height matter more than gain? Though it may seem to be paradoxical at first sight, the fact is that very often the antenna height above ground might matter more than its published gain when it comes to HF band antennas used for DX operation. Long-range DX contacts on HF bands typically require long skips on optimally selected frequency bands for best results. To achieve this objective, the radiation takeoff angle (TOA) has to be quite low. Especially, under low SSN conditions (as is prevalent at the time of writing this post), when the ionospheric plasma densities are low and the slab thickness is also less, the higher TOA signals might penetrate the ionosphere to be lost in outer space. Low TOA signals from the antenna provide us the best prospects. Does this mean that we need to search for some special kind of antenna with low TOA capability to deploy at our QTH? NO! We don't… Every antenna can be installed in a manner so as to provide low TOA, however, the user must be aware of how...
Click Here to Read Full Article […]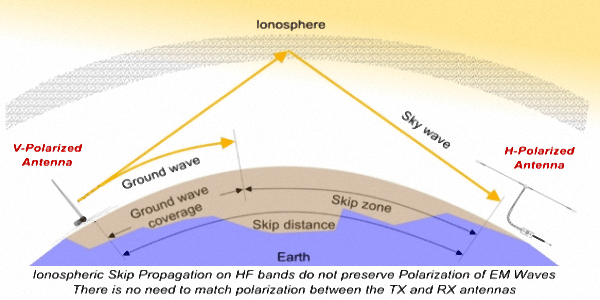 Antenna Polarization in Radio Communication What is the significance of antenna polarization in radio communication? Or, should we ask, how does the polarization of radio waves affect radio communication capabilities? We surely need to understand the fundamental concepts and find out the probable practical effects. By-and-large, most of the antennas that we use on a regular basis are linearly polarized and hence produce linear polarized radiations. Although there are several types of antennas that produce circular (LHCP or RHCP) polarization, they are relatively rare in terrestrial communication application scenarios. Satellite-based radio communication often uses circular polarized antennas both at the satellite and the earth station end of the links. However, that's a story for another day… Or else, check out the article Amateur Satellite Communications. Moreover, the circular polarization throws up its own set of challenges related to polarization rotation directions. As amateur radio operators, generally engaged in terrestrial radio communication, we normally use linear polarized antennas. This is applicable to both HF as well as VHF/UHF communication. Typically, our antennas are oriented in ways to favor either Vertical or...
Click Here to Read Full Article […]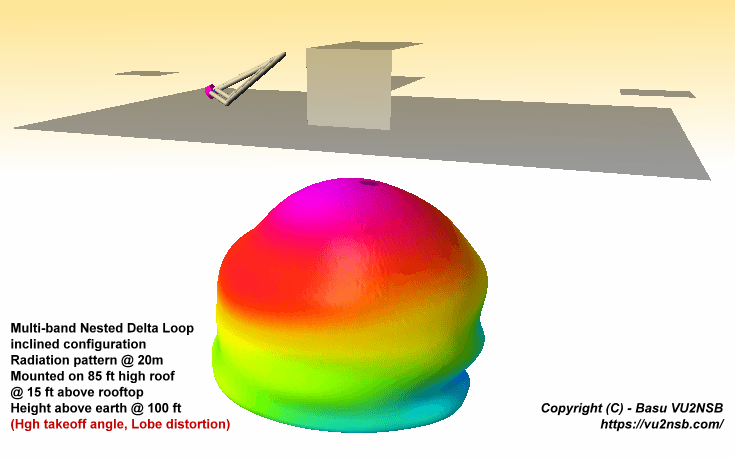 Urban antenna height above ground – The truth The antenna height above ground, especially in urban areas on the HF bands, poses a set of unforeseen issues that an average radio amateur is often blissfully ignorant about. An experienced operator knows all this too well but a large section of our community is often unaware of several kinds of radiation lobe pattern distortions and reduction in overall antenna efficiency that occur due to the presence of various natural geographical artifacts and man-made entities like buildings, sheds, bridges, overhead cables, water-pipes, etc that cause havoc. Despite a seemingly good antenna height, the most common problems that usually plague a typical urban antenna installation are considerable distortion in the radiation pattern. The textbook lobe patterns and gain figures of antennas may not hold true anymore. The second casualty is the overall efficiency of the antenna as a radiator. The nearby building structures and objects within the near-field zone of the antenna often absorb a certain amount of transmitter energy and may also alter the resonance and spoil the attainable SWR. I have...
Click Here to Read Full Article […]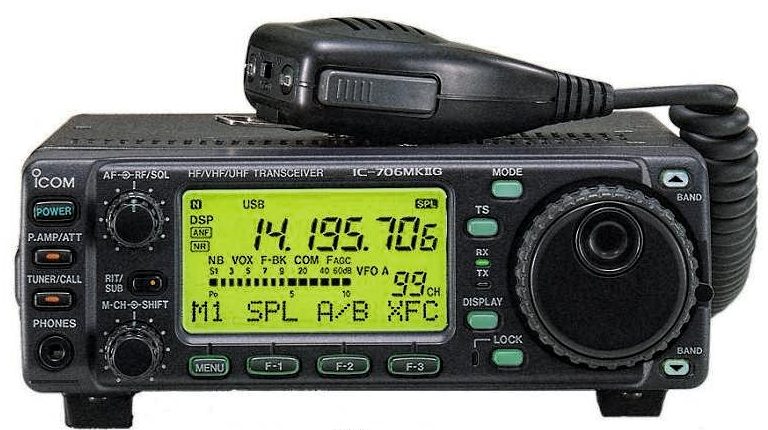 Choice between a better Radio or a better Antenna What should I focus on? Should I invest more in a better Radio Rig or a better Antenna? What is it that will provide me better communication prospects and more Dx? These are some of the most common questions that have plagued the minds of new entrants to the hobby of Amateur Radio. Unfortunately, it is equally true that having been swayed by the glamour of well-advertised jazzy-looking modern radio rigs, many of these people have made wrong choices. Only to have learned about their mistake the hard way after having spent a lot of hard-earned money that never really paid dividends as per their expectations. Ironically, even many of the extra-class licensees, in haste to conquer the world, had skipped doing due diligence or ignored sane advice from others who knew. They often ended up making reckless decisions and wrong choices. The answers to the questions that we raised at the beginning are unambiguously clear and straightforward. Yet, at times, amongst a section of radio amateurs, there seems to be...
Click Here to Read Full Article […]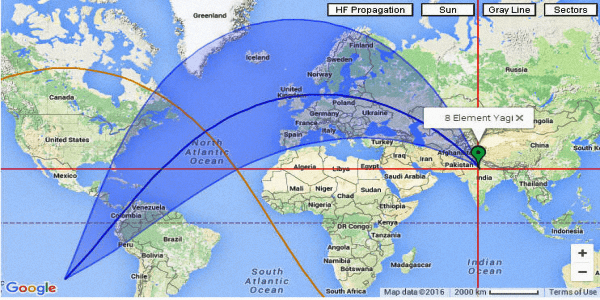 Do we need to set eaxct antenna bearing for HF DX? While working distant stations on HF bands do we need to be fussy about the exact beam headings and antenna bearing for HF DX? The short answer is NO… Yet, with the availability of various software utilities available to us both as standalone applications or online services, we often tend to get carried away. Several amateur radio operators, unfortunately, believe that unless their directional antennas like the Yagi are pointing precisely at the DX location they would not receive optimum signals. This is far from the truth. Let us quickly examine why. Of course, what we are discussing here is notwithstanding the fact that for VHF/UHF terrestrial radio contacts across several tens of kilometers one would need to beam quite accurately. Not only because the beam flare-out is narrow at short distances but also because much higher antenna gains on VHF and beyond produce far narrower beams… However, right now, we concern ourselves only with HF antennas for DX contacts. People at times ask me, What is your Grid-square?...
Click Here to Read Full Article […]