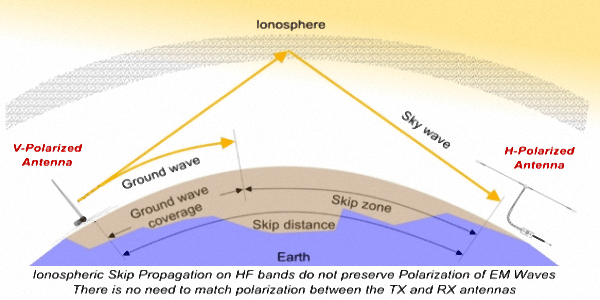 Antenna Polarization in Radio Communication What is the significance of antenna polarization in radio communication? Or, should we ask, how does the polarization of radio waves affect radio communication capabilities? We surely need to understand the fundamental concepts and find out the probable practical effects. By-and-large, most of the antennas that we use on a regular basis are linearly polarized and hence produce linear polarized radiations. Although there are several types of antennas that produce circular (LHCP or RHCP) polarization, they are relatively rare in terrestrial communication application scenarios. Satellite-based radio communication often uses circular polarized antennas both at the satellite and the earth station end of the links. However, that's a story for another day… Or else, check out the article Amateur Satellite Communications. Moreover, the circular polarization throws up its own set of challenges related to polarization rotation directions. As amateur radio operators, generally engaged in terrestrial radio communication, we normally use linear polarized antennas. This is applicable to both HF as well as VHF/UHF communication. Typically, our antennas are oriented in ways to favor either Vertical or...
Click Here to Read Full Article […]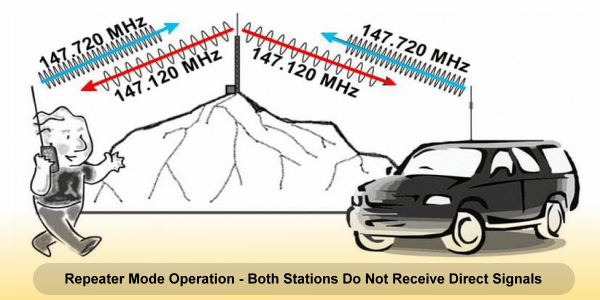 Does 59 Signal Report on a Repeater make any sense? Does a 59 Signal Report exchange during a QSO on a Repeater make sense? Unfortunately, it doesn't… We so often come across stations who report 59, or 59+20dB, etc to the other station during a QSO that is conducted through a local terrestrial repeater or during a QSO made via FM repeater type LEO amateur satellites. To top it all, I have come across instances where even a net-controller on an FM repeater net doles out this kind of signal reports to other stations and vice-a-versa. None of this makes any sense… Let's see why? The RST reporting system comprises of three-digit. They are Readability (R), Signal-strength (S), and Tone (T). This is a typical CW signal reporting format most prevalent on HF radio bands. However, for radiotelephony, the third digit (T) is not applicable and therefore only a two-digit (RS) report without the (T) is given. This is all good when it comes to regular point-to-point Simplex, Half-duplex, or Full-Duplex mode communication. How about repeater based QSOs? The first...
Click Here to Read Full Article […]
Does Low SWR always mean a good Antenna setup? Many amateur radio operators often assume it to be true but the question is, will low SWR always ensure that the antenna has been optimally setup? Although a low SWR on the transmission line to the antenna is certainly welcome, the question still remains whether it conclusively indicates a healthy antenna system setup? contrary to popular belief, No, not always… There are various other factors that go a long way in determining optimum antenna performance. This is notwithstanding the fact that the location of antenna installation, its surroundings, and height above ground play vital roles. Let us ignore these limiting factors because I know that most of us, the radio amateurs, are often constrained by real-estate limitations and therefore may not always be able to install our antennas the way we might have liked to. Within the realms of the above-cited limitations, the SWR is still not the ultimate indicator of antenna system health. Let us examine why is it so, and what are the other factors that could overshadow the...
Click Here to Read Full Article […]
Coaxial cable choke and RF common-mode noise Is it really true that a section of coiled coaxial cable choke at antenna feed-point would effectively cut down the radio RF noise substantially? Will the perceived reduction be enough to make operating especially on the lower frequency HF bands a pleasure? These are some of the questions that come to mind. Well, there are a multitude of opinions with many people suggesting that it is indeed worthwhile. Let us impassionately and realistically examine the effects of such coiled coaxial cable chokes that are often used near the antenna feed-point and figure out with rational scientific logic if they are truly as effective as one might be made to believe… At this point, some readers may feel impatient and say, stop beating about the bush, give us the bottom line… OK, the bottom line is NO! they don't work well enough to feel jubilant or elated. Especially, on the lower HF bands like the 80m, or 40m. Even on the other higher frequency HF bands, they don't perform as well as one might...
Click Here to Read Full Article […]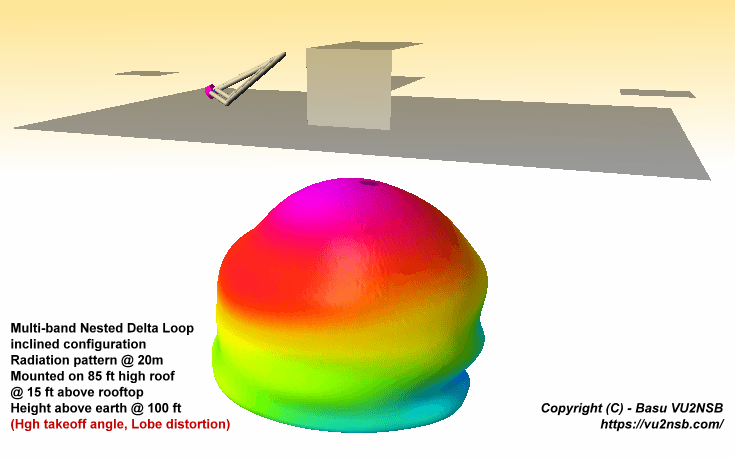 Urban antenna height above ground – The truth The antenna height above ground, especially in urban areas on the HF bands, poses a set of unforeseen issues that an average radio amateur is often blissfully ignorant about. An experienced operator knows all this too well but a large section of our community is often unaware of several kinds of radiation lobe pattern distortions and reduction in overall antenna efficiency that occur due to the presence of various natural geographical artifacts and man-made entities like buildings, sheds, bridges, overhead cables, water-pipes, etc that cause havoc. Despite a seemingly good antenna height, the most common problems that usually plague a typical urban antenna installation are considerable distortion in the radiation pattern. The textbook lobe patterns and gain figures of antennas may not hold true anymore. The second casualty is the overall efficiency of the antenna as a radiator. The nearby building structures and objects within the near-field zone of the antenna often absorb a certain amount of transmitter energy and may also alter the resonance and spoil the attainable SWR. I have...
Click Here to Read Full Article […]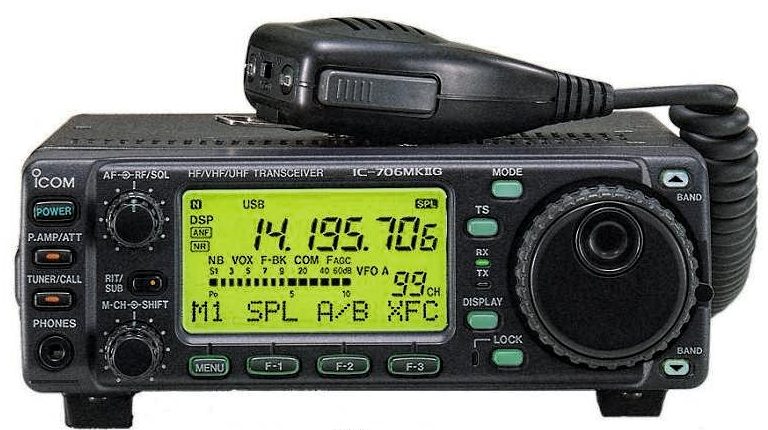 Choice between a better Radio or a better Antenna What should I focus on? Should I invest more in a better Radio Rig or a better Antenna? What is it that will provide me better communication prospects and more Dx? These are some of the most common questions that have plagued the minds of new entrants to the hobby of Amateur Radio. Unfortunately, it is equally true that having been swayed by the glamour of well-advertised jazzy-looking modern radio rigs, many of these people have made wrong choices. Only to have learned about their mistake the hard way after having spent a lot of hard-earned money that never really paid dividends as per their expectations. Ironically, even many of the extra-class licensees, in haste to conquer the world, had skipped doing due diligence or ignored sane advice from others who knew. They often ended up making reckless decisions and wrong choices. The answers to the questions that we raised at the beginning are unambiguously clear and straightforward. Yet, at times, amongst a section of radio amateurs, there seems to be...
Click Here to Read Full Article […]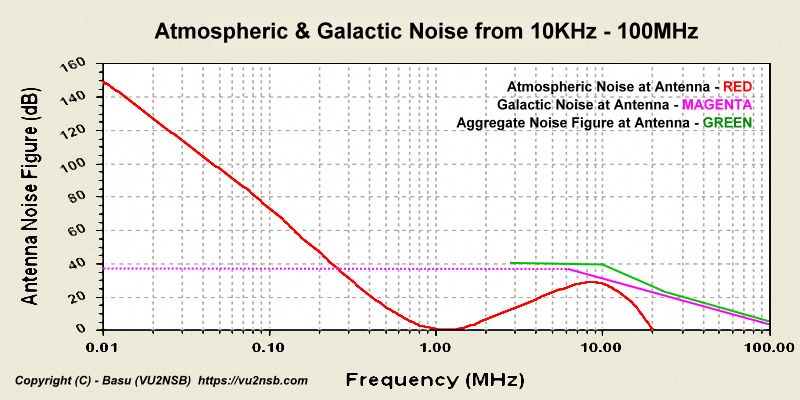 High Gain HF Preamplifier for Weak Signal DX? Is it true that a high gain HF preamplifier will enhance the ability to work weak signal DX stations? Broadly speaking, the answer is NO! it won't. However, for operation on VHF, UHF, and microwave bands, a good low noise preamplifier surely becomes important under most circumstances, for HF bands it is a different story. Though an experienced HF radio operator knows this too well, there are quite a few people who have a false notion regarding this. On various amateur radio forums, Facebook groups, as well as during personal interactions I have come across people who believe that adding a preamplifier to their HF radio rigs might improve their weak-signal DX prospects. Let us try to examine why such a notion is unsustainable and incorrect. We will also briefly examine why a preamplifier makes sense for VHF/UHF or microwave. What is it that sets HF apart from the higher frequency bands? Recap of Noise levels in Radio Communication Environment The prevalent noise levels in a communication system environment determine the limit...
Click Here to Read Full Article […]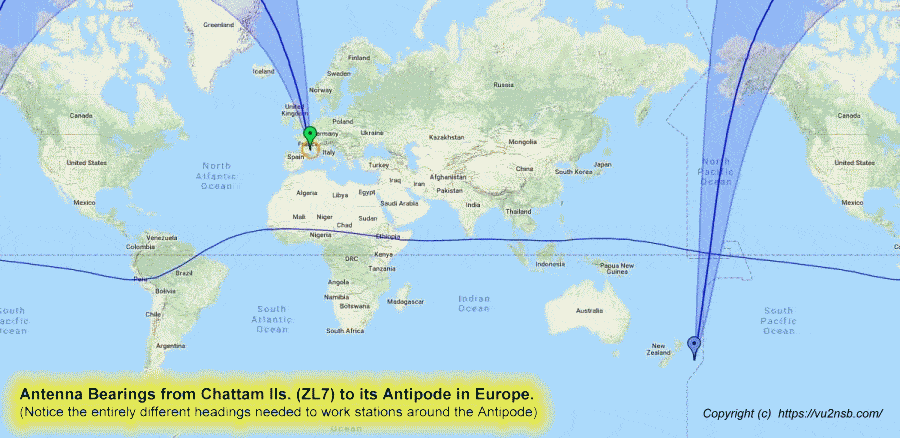 Working HF DX stations located near Antipodes Working HF DX at the longest possible physical distance on earth is often referred to as working stations near Antipodes. These situations present several unique challenges that may never be observed while working regular DX at shorter distances that are not as far as the Antipode. These challenges manifest themselves while using directional beam antennas and may not be observed or appreciated by those of us who have omnidirectional antennas. The challenges of working stations at or near the antipodes are not only experienced by the station holding the frequency and calling CQ but also by those who are trying to work him. We cover the concept of Antipodes in an article under the section Geodesic for Terrestrial HF Radio. However, to recap for those who might be new to the term, an Antipode is a location that is at the opposite side of the globe from where a station might be located. Hence, every operator has a unique antipode based on his location. For the sake of simplicity, if we assume the...
Click Here to Read Full Article […]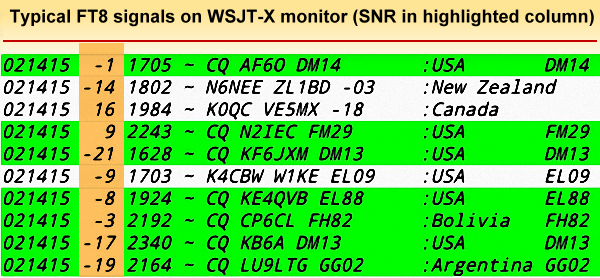 Digital modes like FT8 work below Noise? – A myth It is a common myth that narrowband digital modes like FT8, JT65, etc establish communication with signals that are below noise floor. This myth has by-and-large been perpetuated among the amateur radio community where many operators consider it to be a magical property of these digital modes. These narrowband digital mode signals may not be audible on a regular radio receiver or may not be visible on the band-scope spectrum or waterfall displays of our transceivers but there is nothing magical about it. They certainly do not work with signals being below the noise floor. Barring a few modulation modes like the Spread Spectrum, including both direct Sequence Spread Spectrum (DSSS) and the Frequency Hopping Spread Spectrum (FHSS), typically most other commonly used digital modes need signals to be above the noise floor with a positive magnitude of Signal-to-Noise Ratio (SNR). Spread Spectrum due to its nature, has a very low signal density that typically lies below the noise floor. Hence, it is difficult to detect and equally difficult to...
Click Here to Read Full Article […]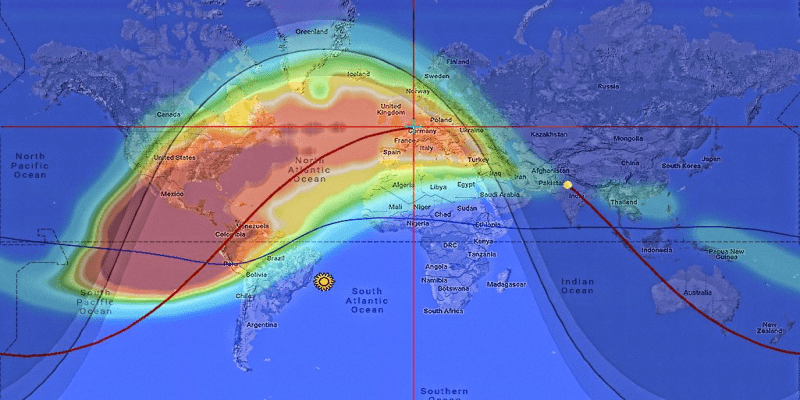 HF Long Path (LP) – Getting acquainted HF radio DXing may often be leveraged by the use of HF Long Path (LP) from time-to-time. By-and-large, on a routine basis we all tend to explore HF radio propagation openings that prevail along the better known Short-Path (SP). The earth is nearly a spherical object and the path taken by the radio signals to travel to the DX location is always via the shortest straight path along the spherical surface of the globe. However, this straight path if extended beyond the DX location eventually circles the globe and reaches back to the originating TX station's location. This is the full Great Circle path. The Great Circle round-the-world path is always unique between any two radio stations on earth. In one direction along the circular path (Great Circle), the distance is shorter than the distance along the opposite direction. The direction along the shorter of the two distances is called the Short Path heading, while that in the opposite direction is the Long Path heading. There is only one exception. It is when...
Click Here to Read Full Article […]